The 2021 Subaru Love Promise Community Commitment Award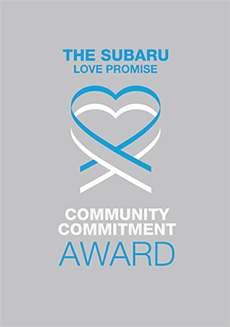 We've been nationally recognized for our dedication to our community and the Subaru Love Promise.
We're honored to receive the 2021 Subaru Love Promise Community Commitment Award. This award nationally recognizes Subaru retailers who are making the world a better place while demonstrating an outstanding commitment to supporting passions and causes in local communities. These efforts are focused in important areas such as the environment, community, health, education, and pets.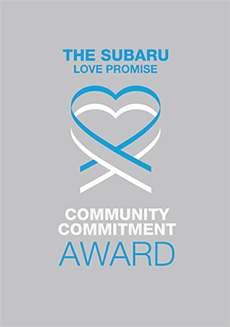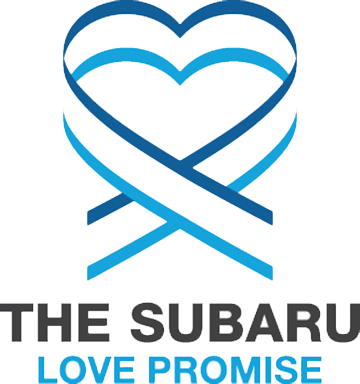 What is the Subaru Love Promise?
Subaru and our retailers believe in making the world a better place and the Subaru Love Promise is our vision of respecting all people. This is our commitment to show love and respect to our customers and to work to make a positive impact in the world.
How is McDaniels Subaru of Columbia dedicated locally to the Love Promise?
Our Love Promise can be seen in various partnerships with local charities and non-profits. We're grateful for the opportunity, not only to be a part of our community, but to serve it as well.
Congaree Riverkeeper, The River Alliance
Longleaf Middle School, Pontiac Elementary School
Homeless No More, Palmetto Animal Assisted Life Services, Camp Cole
Lexington Medical Center, Lymphoma Leukemia Society of the Midlands, Meals On Wheels Lexington County Recreation & Aging Commission
Love Promise Stories from McDaniels Subaru of Columbia
Subaru and McDaniels Subaru of Columbia believe in making a positive impact on the communities in which we live and work. We uphold that belief through our Love Promise Community Commitment. Every month, we select inspiring stories from customers and partners from around our area who strive to support our collective commitment and feature them here
McDaniels Subaru Helping Seniors - Lynda C
Lexington County Recreation & Aging Commission Council on Aging greatly appreciates McDaniels Subaru's generous donation of much needed food to our Project Pantry project. Over 800 Lexington County older adults are each receiving a large bag with food for several meals, essential items like toilet paper and paper towels, and toiletries this holiday season. McDaniels' contribution helped make certain that every senior on our list received a full bag. This year, with another COVID wave coming during the holidays, Project Pantry is more important than ever. During COVID, Subaru's annual "Share the Love" event and the support of McDaniels Subaru have been a valuable part of our Meals on Wheels program. COVID has had a huge impact on our Meals on Wheels. During the first few months, our number of clients grew by 34% or the equivalent of 5 years of growth. The intent of the Federal COVID funding was to help older adults receive meals and stay safely at home temporarily. COVID funding is gone, but COVID is not. Over 90% of our "temporary clients" both qualify for and desperately need to stay on Meals on Wheels long term. The funding we received in 2020 and in 2021, from the Subaru "Share the Love" events helped fill funding gaps and purchased healthy meals for Lexington County seniors. Thank you McDaniels Subaru for all that you do!!
---
A Pawsome Adoption Day with McDaniels Subaru - M W
McDaniels Subaru Helps Pawmetto Lifeline Pets Find Fur-ever Homes. Pawmetto Lifeline is a nonprofit 501(c)3 animal rescue organization with a plan to end pet overpopulation in South Carolina. We are committed to South Carolina being a No-Kill state, meaning that no treatable, adoptable animal should be euthanized simply because it is homeless. We are grateful that McDaniels Subaru of Columbia believes in our mission. Recently, we held our annual Subaru Loves Pets reduced-fee adoption event here at Pawmetto Lifeline with a fun Fall/Halloween theme. What a great day! Twenty-two puppies, kittens, dogs, and cats found their fur-ever home as we enjoyed a beautiful day. McDaniels Subaru of Columbia was on hand with their awesome Camp Subaru Ascent equipped with pet-friendly accessories and local radio station, B106 set up outside to play music for staff and adopters alike while doing several interviews about the events of the day.We had a special dog named "Kevin" who had been found on the interstate by a Good Samaritan and brought to Pawmetto. He had a previously broken leg (which healed improperly) and many scars, bite marks, a torn ear, etc. It was suspected he may have been a bait dog or abused/neglected. This sweet, loving, and trusting pup found his family on this special day. A mother and daughter came in looking to adopt. They had traveled to Pawmetto to see if they fell in love with one of our dogs, and they fell hard for Kevin. He was just as excited to see them and meet their other dog which they had brought. This family knew that he had medical issues to be addressed and willingly took them on saying "he's a keeper". This is just one of the special stories that took place on October 30, 2021, at Pawmetto Lifeline. McDaniels Subaru of Columbia helped make it possible and we thank them!
---
Because of you, wishes are coming true! - Kea W
This is always an exciting time for Make-A-Wish South Carolina as we love to celebrate the kickoff of the Subaru Share the Love event! Last year, McDaniels Subaru of Columbia raised over $3,100 through the 2020 Share the Love campaign and helped grant a special kitten wish for local wish kid Sam. Last week, members of our Make-A-Wish team stopped by to drop off some special goodies and to say THANK YOU! These funds and the money raised during this year's Share the Love event will help grant wishes for the 78 children in the Midlands who are currently waiting for their wish to come true. Wishes bring kids renewed hope and hope is essential when battling a critical illness. Our vision is to grant the wish of every eligible child in South Carolina facing a critical illness and with every gift, we are one step closer to making that vision a reality. We're so grateful for your continued investment and excited to promote Share the Love as a way to get an awesome vehicle and support many wonderful community organizations. Thank you for helping spark joy for children with your generosity this season!
---
McDaniels Subaru Helps Camp Cole Shine - Kelsey C
Camp Cole is a camp and retreat facility just outside of Columbia, SC for children, teens, and adults with illnesses, disabilities, and life challenges. We pride ourselves on being a safe, accessible gathering place where groups can connect, share, encourage, and shine. We recently wrapped up our very first summer at Camp Cole, where we served over 500 individuals. Among our campers were children who have cancer, have experienced or are currently experiencing homelessness or are from low-income families, have Down syndrome, autism, sickle cell disease, and many other life challenges. Despite their challenges, our campers were able to thrive at our state-of-the-art, 100% accessible campus. They enjoyed swimming in our zero-entry swimming pool, fishing from our dock, kayaking in our pond, horseback riding, playing games, and much more. We got to see our campers make friends, bond with counselors, overcome fears, and be themselves at Camp Cole. McDaniels Subaru of Columbia has been incredibly supportive of our mission of providing a safe and accessible camp experience for all campers. Their team generously donated an accessible picnic table for our campus, which we have proudly placed beside our zero-entry swimming pool. This innovative table has a section of the bench removed so that individuals who are utilizing wheelchairs can easily access the table. Seeing people who are using wheelchairs be able to sit with their friends at the table is truly beautiful. Small changes can make all the difference in the world. We are so thankful for our friends at McDaniels Subaru of Columbia for adding this accessible piece to our campus. We know that it will be used for years and years to come. We thank McDaniels Subaru of Columbia for helping our campers shine at Camp Cole!
---
McDaniels Subaru Bark Around Your Block - 2021 - Maria W
Thank you McDaniels Subaru of Columbia for being our Presenting Sponsor again this year for our 2021 Bark Around Your Block! Not only did we have an amazingly successful event, but we will be able to save thousands more animals' lives with the funds raised! We continued this year with a virtual spin on our well-known Bark to the Park event which is typically a 1,000+ person event at Saluda Shoals Park. Instead – with the safety of our participants in mind during the global pandemic – friends, families and neighbors formed teams and walked their dogs in their own neighborhoods to show their support for Pawmetto Lifeline's mission of rescuing homeless pets. This modified event was a huge success last year thanks in part to McDaniels Subaru so we brought it back again this year! With the assistance of McDaniels Subaru and their dedicated work ethic and planning, we were able to achieve ambitious fundraising goals and will be able to save over 1,500 homeless dogs and cats in South Carolina! Pawmetto Lifeline receives no government funding and relies strictly on donors and sponsors to keep our organization running. We could not do what we do without sponsors like McDaniels Subaru! We are proud to call them our partner in animal rescue and look forward to saving many more lives with the great folks at McDaniels Subaru by our side! THANK YOU!
---
McDaniels Subaru Pep Rally for Cancer Patients - Beth W
On May 4th - a beautiful, sunny afternoon, a group of employees and friends of McDaniels Subaru and Lexington Medical Center Foundation joined together to hold a unique event on the campus of Lexington Medical Center. Under the view of the fourth-floor windows of the Cancer Center where patients were actively receiving chemotherapy treatment, signs started going up and amenities were organized to mobilize this team of intrepid cheerleaders. Despite the wind, volunteers carefully placed messages of hope and support in preparation for the shades covering those windows to be lifted. Each volunteer received pom-poms, beautiful posters with words that offered courage and inspired tenacity, and hugs of encouragement and solidarity. The message was clear – It's Our Fight, Too! At 12:15 p.m., one by one the shades were lifted and nurses working in infusion services guided patients to the windows. Those staff and patients looked down on a boisterous crowd of faces below, cheering and projecting love and support for them. You could feel the poignancy of the moment, as tearful cancer survivors in the cheering section felt the emotions of a shared experience with those in treatment. It was wonderful, and the team felt the power of so many caring hearts lifted and giving hope to those in the battle. This day began a month-long effort to garner financial support to provide life-saving cancer screening services for uninsured and underserved patients in the Midlands community. To learn more, visit: www.fundthefight.foundation/fund-the-fight . Thank you to Subaru for supporting the McDaniels Fund the Fight Kickoff Pep Rally and the patients who know they are cared for.
---
Thanks for Sharing the Love to Grant Wishes - Kea W
When we share love, we change lives. That's why the Subaru Share the Love event means so much to our mission. Make-A-Wish South Carolina creates life-changing wishes for children with critical illnesses. We are beyond grateful for the continued support from the McDaniels Subaru team and the 2020 Share the Love event. Thank you for helping to make wishes like Sam's wish "to have a kitten" come true during the Share the Love event! Right now, in this world of uncertainty when many travel wishes have had to be delayed, the team at McDaniels Subaru continues to be a bright star for local wish kids like Sam - bringing renewed hope and joy to children and families when they need it most!
---
Celebration for Local Wish Kid Sam! - Kea W
During this year's Share the Love event, Make-A-Wish South Carolina partnered with Pawmetto Lifeline and McDaniels Subaru to help grant Sam's wish for a kitten. The one thing that truly brightened 5-year old Sam's spirits during his medical treatments for leukemia was daydreaming about a soft kitten that he and his twin brother could play with. For his wish, Sam and his family were able to go to Pawmetto Lifeline and pick out his favorite – it was a small gray kitty named Linny. When asked to be a part of Sam's wish celebration, McDaniels Subaru was there to help! Sam, his family, Linny the kitten, representatives from Pawmetto Lifeline, and the team from McDaniels Subaru all gathered together at the dealership to celebrate Sam's wish being granted. We are incredibly grateful for community partners like McDaniels Subaru who go above and beyond to rally behind our mission, giving wish kids like Sam hope and incredibly joy. From all of us at Make-A-Wish South Carolina, thank you McDaniels Subaru for your personal dedication to making a difference in the community and lives of our wish families!
---
Subaru Loves To Help Hannah House - Mark C
This is our first year working with McDaniels Subaru here at Hannah House. Hannah House provides transitional shelter and basic necessities to women, with or without children, who are seeking independence and self-sufficiency. The focus is on rebuilding families, job placement, childcare, and affordable housing. The partnership with McDaniels Subaru and the Subaru Loves To Help campaign is providing blankets these women and children can take with them as they transition to a purpose-driven, empowering life. We are truly grateful for this blanket donation and the impact it will carry forward.
---
"Subaru Loves Pets!" - Jackie R
Subaru Love/Promise Story as Pawmetto Lifeline entered its 6th year of partnership with McDaniels Subaru of Columbia, no one could have predicted the challenges we would face in 2020! These challenges, however, did nothing to deter McDaniels Subaru from helping Pawmetto (their "hometown charity") continue its mission to end pet overpopulation in the Midlands. McDaniels Subaru not only sponsored a reimagined "Bark Around the Park" due to COVID-19, but more recently they sponsored/partnered with Pawmetto to hold a reduced fee adoption event called "Subaru Loves Pets". Indeed they do! This heartwarming story begins with a sweet little pup named "Dobby." "A couple came in with their beloved Miniature Pinscher (during our Subaru Loves Pets event) and wanted to find the perfect brother or sister to join their family. After visiting with several dogs, I went to intake and saw a wire-haired terrier named "Dobby" waiting patiently. When I approached his kennel, he lifted his head ready to meet someone that would take him to a loving home. Dobby had been neglected and lost a large amount of fur from flea allergies. I explained his past to the potential adopters, and they emphasized that they wanted to save a dog and give it a great life—spoiling it in their home and taking trips to the doggy park. They were thrilled to see their dog and Dobby, nose-to-nose, wagging tails and joyfully playing. They proudly posed for a family photo at the McDaniels Subaru photo tent." McDaniels Subaru's sponsorship helped make this event possible, but also captured those special moments when a "Dobby", "MacDonald", "Rex", or any other dog found its fur-ever home and its fur-ever family.
---