The 2020 Subaru Love Promise Community Commitment Award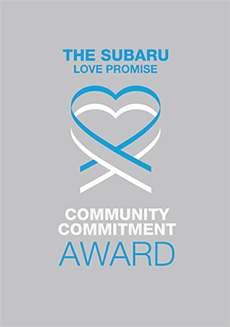 We've been nationally recognized for our dedication to our community and the Subaru Love Promise.
We're honored to receive the 2020 Subaru Love Promise Community Commitment Award. This award nationally recognizes Subaru retailers who are making the world a better place while demonstrating an outstanding commitment to supporting passions and causes in local communities. These efforts are focused in important areas such as the environment, community, health, education, and pets.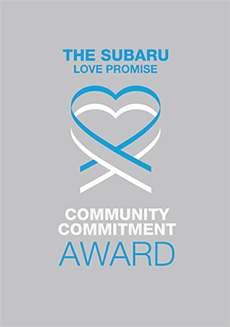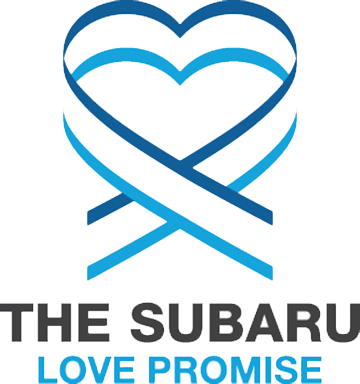 What is the Subaru Love Promise?
Subaru and our retailers believe in making the world a better place and the Subaru Love Promise is our vision of respecting all people. This is our commitment to show love and respect to our customers and to work to make a positive impact in the world.
How is McDaniels Subaru of Columbia dedicated locally to the Love Promise?
Our Love Promise can be seen in various partnerships with local charities and non-profits. We're grateful for the opportunity, not only to be a part of our community, but to serve it as well.
Congaree Riverkeeper, The River Alliance
Longleaf Middle School, Pontiac Elementary School
SC Philharmonic, Palmetto Animal Assisted Life Services
Lexington Medical Center, Lymphoma Leukemia Society of the Midlands
Love Promise Stories from McDaniels Subaru of Columbia
Subaru and McDaniels Subaru of Columbia believe in making a positive impact on the communities in which we live and work. We uphold that belief through our Love Promise Community Commitment. Every month, we select inspiring stories from customers and partners from around our area who strive to support our collective commitment and feature them here
Celebration for Local Wish Kid Sam! - Kea W
During this year's Share the Love event, Make-A-Wish South Carolina partnered with Pawmetto Lifeline and McDaniels Subaru to help grant Sam's wish for a kitten. The one thing that truly brightened 5-year old Sam's spirits during his medical treatments for leukemia was daydreaming about a soft kitten that he and his twin brother could play with. For his wish, Sam and his family were able to go to Pawmetto Lifeline and pick out his favorite – it was a small gray kitty named Linny. When asked to be a part of Sam's wish celebration, McDaniels Subaru was there to help! Sam, his family, Linny the kitten, representatives from Pawmetto Lifeline, and the team from McDaniels Subaru all gathered together at the dealership to celebrate Sam's wish being granted. We are incredibly grateful for community partners like McDaniels Subaru who go above and beyond to rally behind our mission, giving wish kids like Sam hope and incredibly joy. From all of us at Make-A-Wish South Carolina, thank you McDaniels Subaru for your personal dedication to making a difference in the community and lives of our wish families!
---
Subaru Loves To Help Hannah House - Mark C
This is our first year working with McDaniels Subaru here at Hannah House. Hannah House provides transitional shelter and basic necessities to women, with or without children, who are seeking independence and self-sufficiency. The focus is on rebuilding families, job placement, childcare, and affordable housing. The partnership with McDaniels Subaru and the Subaru Loves To Help campaign is providing blankets these women and children can take with them as they transition to a purpose-driven, empowering life. We are truly grateful for this blanket donation and the impact it will carry forward.
---
"Subaru Loves Pets!" - Jackie R
Subaru Love/Promise Story as Pawmetto Lifeline entered its 6th year of partnership with McDaniels Subaru of Columbia, no one could have predicted the challenges we would face in 2020! These challenges, however, did nothing to deter McDaniels Subaru from helping Pawmetto (their "hometown charity") continue its mission to end pet overpopulation in the Midlands. McDaniels Subaru not only sponsored a reimagined "Bark Around the Park" due to COVID-19, but more recently they sponsored/partnered with Pawmetto to hold a reduced fee adoption event called "Subaru Loves Pets". Indeed they do! This heartwarming story begins with a sweet little pup named "Dobby." "A couple came in with their beloved Miniature Pinscher (during our Subaru Loves Pets event) and wanted to find the perfect brother or sister to join their family. After visiting with several dogs, I went to intake and saw a wire-haired terrier named "Dobby" waiting patiently. When I approached his kennel, he lifted his head ready to meet someone that would take him to a loving home. Dobby had been neglected and lost a large amount of fur from flea allergies. I explained his past to the potential adopters, and they emphasized that they wanted to save a dog and give it a great life—spoiling it in their home and taking trips to the doggy park. They were thrilled to see their dog and Dobby, nose-to-nose, wagging tails and joyfully playing. They proudly posed for a family photo at the McDaniels Subaru photo tent." McDaniels Subaru's sponsorship helped make this event possible, but also captured those special moments when a "Dobby", "MacDonald", "Rex", or any other dog found its fur-ever home and its fur-ever family.
---
McDaniels Subaru Helps Midlands Wishes Come True! - Kea W
Make-A-Wish® South Carolina creates life-changing wishes for children with critical illnesses. We are beyond grateful for the giving spirit of McDaniels Subaru and its customers during the 2019 Subaru Share the Love event! As one of four national charities participating in the event, McDaniels Subaru raised nearly $2,000 for our wish-granting program! This donation will support the 43 children in the Midlands who are currently waiting for their wish. Wishes bring kids renewed hope and hope is essential when battling a critical illness. With a wish on the horizon, the exciting anticipation of a wish-come-true helps them believe in better days ahead. Wishes also strengthened family bonds, provide much-needed escapes from medical worries, and an opportunity to simply feel normal again. Wishes change lives of everyone they touch and we're grateful that McDaniels Subaru continues to share in that experience! Right now, in this world of uncertainty where many wishes have been put on hold, the team at McDaniels Subaru has been a star for wish kids - dedicated to bringing renewed strength and joy to children, families and communities who need it most. We are thankful for community partners like McDaniels Subaru for making wishes come true for local children battling critical illnesses. Your generosity during the Share the Love event is helping to ensure that no child is asked to wait any longer than is necessary to experience the power of a wish come true.
---
McDaniels Subaru Bark Around Your Block 2020 - Maria W
We at Pawmetto Lifeline are proud to call McDaniels Subaru our Bark to the Park 2020 presenting sponsor once again this year! Typically, Bark to the Park is a 1,000+ person event at Saluda Shoals Park. This year, the Covid-19 global pandemic forced us to re-evaluate our plans and adhere to social distancing guidelines. With the help of McDaniels Subaru we were able to seamlessly adapt to these changes in way-of-life with a virtual spin on this highly anticipated event! Enter - Bark Around Your Block 2020 where walkers formed teams to walk in their own neighborhood! McDaniels Subaru was our rock during these uncertain times. We knew we could count on them to help us make this another amazingly successful event and exceed ambitious fundraising goals! With the help of our fundraising efforts for this event, we will be able to save over 1,500 homeless dogs and cats. With no government funding and relying strictly on private donors - this is a HUGE accomplishment! Dedicated supporters like McDaniels Subaru are our lifeline to saving more lives and furthering our efforts to make the Midland a no-kill community! THANK YOU!
---
McDaniels Subaru committs to the Backpack Program - Bill M
Richland Two strives to meet the needs of our students, and if their basic needs such as food, clothing, and shelter aren't met, we can't expect them to be successful in school. Bill McDaniels and McDaniels Subaru know that those basic needs must be met with an understanding that food insecurity is a real and prevalent issue in our community. They understand that families are facing extremely difficult times during this pandemic and their ability to provide food for their families could be limited or unavailable elsewhere. McDaniels Subaru took Richland Two staff on a shopping spree to Sam's Club in northeast Columbia where food for our backpack program and gift cards for families were purchased. This donation will help us to serve an estimated 150 students. This partnership is essential, now more than ever. Thank you all for this vital contribution.
---
McDaniel's Subaru Love Promise to Richland Two - Abby C
Richland School District Two is thankful and blessed to partner with McDaniel Subaru to help ensure the students in Richland Two have access to food even while schools are closed. Richland Two strives to meet the needs of our students and if their basic needs such as food, clothing, and shelter aren't met, we can't expect them to be successful in school. Bill McDaniel and McDaniel Subaru understand that those basic needs must be met. They understand that food insecurity is a real issue and is prevalent in our community. They understand that families are facing extremely difficult times during this pandemic and their ability to provide food for their families could be limited. Parents have lost their jobs or had reduction in wages but their kid's food needs have increased as the kids are home all day, everyday. They are unable to get their meals elsewhere. McDaniel Subaru took Richland Two staff on a shopping spree to Sam's Club in northeast Columbia where food for our backpack program and gift cards for families were purchased. This donation will help us to serve an estimate of 150 students. This partnership is essential, now more than ever. Schools are charged with a lot of responsibilities but we can not do it alone. We must rely on our community partners to help us. We are so thankful that McDaniel Subaru stepped up and helped us meet this need. Without their support, we would not have the full ability to feed our children during the school closure time. Thank you McDaniel Subaru and Subaru Love Promise for ensuring the needs of Richland Two students are met! You are simply premier!
---
McDaniels Subaru and PAALS - Karen A
Palmetto Animal Assisted Life Services - PAALS - is an Assistance Dogs International-accredited charity in Columbia, S.C., that provides service dogs at no charge to qualified veterans with PTSD and traumatic brain injury, children with autism, and people with disabilities. We also provide assistance dogs for hospitals, mental health practices, special needs classrooms, ministries and other facilities that serve those same groups. We raise 1/3 of the money we need each year at an annual UN-Gala - a light-hearted, costume-themed party that includes food, open bar, live music, dancing, games, auctions and more. Our goal is to invite the best businesses in Columbia to participate in our event as sponsors. In 2019, we were thrilled when McDaniels Subaru offered to become a first-time sponsor. Not only did they sponsor the popular photo booth at our fundraiser, they attended and made a fun videotape that they publicized on social media. We had our 2020 UN-Gala on March 7th, and this time, McDaniels Subaru doubled their original sponsorship amount! They also shot another video to spread the good news about the work we do. We love McDaniels Subaru and love being affiliated with this business and with Subaru.
---
McDaniels Subaru Helps Make Cat TNR Possible! - Alexa S
McDaniels Subaru Helps Make Cat TNR Possible! Trap-Neuter-Return (TNR)—it's the only effective way of controlling the feral or "community" cat population so that perfectly healthy undomesticated cats do not have to be euthanized in overcrowded animal shelters. McDaniels Subaru's love for pets is reflected in the Pawmetto Lifeline TNR program's success—since October 2017, Pawmetto Lifeline has successfully TNR'd over 7,000 community cats in the Midlands! Through seeking an understanding of our mission as a not-for-profit no-kill rescue and by providing meaningful monetary contributions, McDaniels and the team have helped prevent literally thousands of unwanted litters resulting in severe pet overpopulation and pet homelessness. For several years, McDaniel's Subaru has been the presenting sponsor for Pawmetto Lifeline's annual charity fundraiser walk, Bark to the Park, which occurs in the spring when very many kittens are expected to be born. McDaniels Subaru's commitment to this event means that we can spay or neuter, vaccinate, and safely return these cats to their community, so that they can live happy, healthy lives. Mr. Bill, Tracey, Mark, and the team maintain the Subaru spirit of being involved with the community! Their eagerness to help is unwavering and refreshing, as they have plentiful ideas and drive to help events be successful! Pets make our lives whole, and having McDaniels Subaru's support through events like Bark to the Park...means a whole lot to us! (Oh, and go Team SubiePets!)
---
Pre-PAALS Parade at McDaniels Subaru - T M
Human and furry members of Palmetto Animal Assisted Life Services paid McDaniels Subaru a visit to show support for their Un-Gala coming up. The Parade of puppies and dogs in training for their soon to be owners was a pleasure to see and put smiles on everyone's faces. Abel Aguilar, Subaru Sales Manager, was excited to give a "Good Boy" to a pup in training. McDaniels Subaru will be the Photo Booth Sponsor again for 2020 and look forward to the fun, music, and of course meeting the dogs! For more information how you can be a part of the Party with PAALS Un-Gala: Mystical Creatures on March 7th, 2020 at the SC State Museum just click here! https://paals.org/ungala/
---
Make a Dog's Day - Andy A
Subaru is proud to establish the first-ever National Make A Dog's Day October 22nd. As part of Subaru Loves Pets month, we're inviting all dog lovers to do something extra special for their furry best friends. Plus, Subaru will be focusing our efforts on helping the hardest-to-adopt shelter Dogs –those with special needs-find homes. Get ready to fall in love withThe Underdogs. #MakeADogsDay Meet Gabi! Gabi has been at the Humane Society of NWGA (Northwest Georgia) for seven years. If you asked the volunteers to pick their favorite animal at the shelter, Gabi would win hands down. She does not do well with dogs or cats so must be the only animal in an adult only family. She loves people and will bond very quickly to you. Gabi would make someone a great companion. She is waiting patiently for her forever home. If you have room in your heart and your home for this sweet girl then please fill out an adoption application, highlight and right click this link: https://hsnwga.org/adoption/application-for-adoption/?fbclid=IwAR2Ie18p6U3ryKi-niIuIZFTd-waD98xrySl7IJmiRBXE239WP7dpODubiU #MakeADogsDay #SubaruLovesPets #TheUnderdogs
---
We are pals with PAALS at the 6th Annual Un-Gala! - M C
McDaniels Subaru was proud to be the photo booth sponsor at this years PAALS Un-Gala. Participating in the Bill Murray Movie Mayhem theme was a blast, even the dogs and puppies dressed in costume partnered with their handlers! PAALS (Palmetto Animal Assisted Life Services) is committed to enriching and empowering children and adults with physical disabilities and social needs by training service dogs and providing animal assisted educational and recreational activities. Make sure to check out their site for more information on volunteering, fostering, and their community programs. The next Un-Gala: Mythical Creatures is coming up in March 2020 and you don't want to miss it!
---
Leukemia & Lymphoma Society Blanket Delivery - Allison R
On Friday, July 9th, the LLS South Carolina Chapter and McDaniels Subaru had the pleasure of delivering 80 blankets to Lexington Medical Center as part of the Subaru Loves To Care program. These comforting gifts were accompanied by personalized messages of hope written by the customers and staff of McDaniels Subaru. This incredible act of generosity was warmly received by the Lexington Medical Center staff who were thrilled to distribute these comforting gifts to their patients. We had the opportunity to deliver to Barbara, a patient receiving treatment at the facility. Being able to deliver a small gesture of comfort that day and seeing her smile, perfectly captured why the program exists. Many thanks to everyone at McDaniels Subaru and Lexington Medical Center, not only for a memorable day, but for supporting LLS's mission to cure blood cancers and improve the quality of life of patients and their families.
---
McDaniels Subaru Loves To Care! - T M
Lexington Medical Center along with McDaniels Subaru of Columbia partnered with Leukemia & Lymphoma Society Midlands SC to give back to the community. Staff from McDaniels Subaru went to the hospital to hand out blankets to patients receiving treatment. The LLS Girl of the Year, Catherine, made it out too! A message of hope and support made for a special visit.
---
McDaniels Subaru Jr. PA Announcer of the Night - Justin H
McDaniels Subaru of Columbia has partnered with the Lexington County Blowfish Baseball club to reach the community in a new way. Each night, during the fourth inning, one lucky young fan is picked to be the Jr. PA announcer of the night. What better way to make a memory for a fan than to bring them into the press box and make them an actual part of the Gameday experience for every fan in the stadium. Mark Curl, and the folks at McDaniels Subaru of Columbia strive to be the best in customer service and positive customer experience! Combining baseball and Subaru has never been this fun before!
---
Subaru: Saving Lives with 3-D Mammography - Kate M
In the two years Lexington Medical Center Foundation has partnered with the McDaniels Golf Classic, McDaniels Subaru has been instrumental in the event's growth and success. Their commitment of time and treasure has helped us raise more than $1.1 million and save lives by providing 3-D mammography technology to our community. Subaru's staff, especially Mark Curl and Tracey McDaniels-Miller, have spent countless hours securing silent auction donations, working with the media to promote the event, and recruited sponsors to make it all possible. "We are so proud that this event helps us make 3-D mammography a priority for all patients at Lexington Medical Center," said Barbara Willm, vice president of Development and Community Relations at Lexington Medical Center. "This technology will have a significant impact on the health of our community." Subaru's dedication to this effort and to important causes across the country is admirable and greatly appreciated by all of us who benefit from it.
---
McDaniels Subaru All-In April Events! - T M
In April, McDaniels Subaru was All-In with many sponsored events! As Title Sponsor for McDaniels Subaru's Bark To The Park benefiting our local no kill shelter Pawmetto Lifeline, we were able to raise funds that helped save over 2000 homeless pets! The following weekend we were on location as Auto Sponsor for two festivals: The 9th Annual Tartan Day South Celebration with over 15,000 visitors honoring Celtic heritage in our area & on to River Rocks benefiting the Congaree River Keeper who protects our 3 area rivers. Last but not least, the 2019 McDaniels Gala and Golf Classic for Lexington Medical Center Foundation's Campaign for Clarity, a capital campaign working to provide 3-D mammography, raised an event record breaking $660,520. Thank you to everyone who participated and invested in community partnerships throughout the Midlands, changing lives with love.
---
McDaniels Subaru steps up to make Tartan Day South - John B
Tartan Day South Highland Games & Celtic Festival is a festival celebrating Scottish and Irish heritage and culture in the Midlands of South Carolina. The festival raises money for the River Alliance which has transformed access to the three major rivers in our area via nearly 20 miles of riverwalk and landings. This work has provided nearly a million people access to beautiful walking, biking, and running trails. Kayakers, canoers, fisherman, and tubers enjoy many points of entry to three of the greatest natural resources in our state. McDaniels Subaru jumped in as a sponsor in 2019. Their efforts went way beyond financial support. They immediately stepped up to help our marketing efforts and created ideas to enhance the experience for our patrons. The McDaniels marketing team went to work by heavily pushing the event through their strong social media channels. This introduced the event to thousands who were not familiar with this family event. They wanted to tie into some of the themes of the event. One of the largest attractions at Tartan Day South is Sheep Dog Herding. McDaniels set-up stations there for people to take photographs with the beautiful and talented animals in a Subaru. They provided time between shows for the patrons to talk directly to the handlers about their incredible work. This was access that we, as a festival, had never been able to provide. MacDaniels presented their top marketing team to work with the Herding Dogs and staff. They greeted the patrons at that attraction for over 9 hours. They offered shade and even air conditioning to cool the dogs on a hot day. The event drew a little over 12,000 people from 34 states with over 8,000 from our local area. Partners like McDaniels make the goal of 20,000 patrons a realistic goal in the next few years. As an event organizer, you hope to find Sponsors who will become partners. Those groups who get what we are doing and will throw their own personality into the event. McDaniels Subaru did that and more. At the end of the event, they produced a fun video of the entire event for us to use in social media. The heads of the marketing team have already started to plan more ways that they can help improve the event in 2020. They have taken ownership and want to do all they can to make the event a huge success. McDaniels Subaru is not a sponsor, they have become a part of the Tartan Day South family. This type of enthusiasm from a company that is busy serving the public with their own outstanding products is very, very rare. Tartan Day South and the River Alliance are thrilled to be working with a passionate group like the McDaniels Subaru team.
---
McDaniels Subaru Bark to the Park 2019 - Pawmetto L
We at Pawmetto Lifeline are exceedingly grateful for the support we receive from the community, especially business like McDaniel's Subaru, the Presenting Sponsor of Bark to the Park 2019. A great event doesn't just happen! With the McDaniels team's hard work and dedicated planning, we were able to achieve our ambitious fundraising goals. We attracted over 900 walkers, many of whom participated in the after Paw-ty and festivities. As a result of our fundraising efforts, we will be able to save over 2,000 local companion pets. Annually, more than 11,469 homeless dogs and cats enter municipal shelters in Lexington & Richland counties and over 3,670 of those same pets are euthanized simply because they are homeless. Pawmetto Lifeline and McDaniels Subaru believe that this is morally and ethically wrong and there is a better way to solve this problem. We are advocating to transform the Midlands into a no-kill community meaning no healthy, adoptable animal is euthanized simply because it is homeless. Pawmetto Lifeline is dependent on the generosity of our community. We get no public funding from the federal or state level or Richland and Lexington Counties making supporters like McDaniels Subaru absolutely invaluable to our cause. We deeply appreciate the willingness with which McDaniels Subaru has and continues to sponsor our efforts to make the Midlands a NO-kill community and ensure every pet has a home! We sincerely hope that they will continue to support us in our future endeavors.
---
McDaniels Subaru Loves to Care! – Shaye G - Shaye G
On Tuesday June 26, 2018 the McDaniels Subaru of Columbia team, Tracey McDaniels-Miller and Jarret Cox unloaded a Subaru Ascent full of blankets and metal lunch boxes with craft supplies to be delivered to patients receiving treatment at Palmetto Health Children's Hospital. Amanda DuPre and Allison Robinson from the local Leukemia & Lymphoma Society (LLS) Office and LLS 2018 Boy of the Year, Brayden Sox, and family joined them! Brayden was leading the way; he enjoyed pushing the cart full of blankets floor to floor and room to room! Our 2017 Man of the Year, Ernie Yarborough, spends every Thursday morning at the hospital visiting kids, but he tagged along on Tuesday too to see some familiar faces. There was nothing more special than seeing eyes widen and jaws drop on children's faces when Tracey entered the room with an arts and crafts kit full of crayons, watercolors and the most exciting – glitter! This is an amazing partnership and the LLS team is so thankful for what McDaniel's Subaru of Columbia does for our community! Thank you for supporting our mission and bringing smiles to children's faces! #subarulovestocare #LLS #wherelovemeetshope
---
McDaniels Subaru Loves to Care! - Amanda D
On Tuesday July 11, 2017 the McDaniels Subaru of Columbia team; Tracey McDaniels-Miller and David Stutz unloaded a Subaru Forester full of blankets and hope to be delivered to the many patients receiving treatment at Palmetto Health Childrens Hopspital. They met up with, Amanda DuPre and Shanna Banks from the local Leukemia & Lymphoma Society (LLS) Office and LLS Honored Hero, Trey Lewis who was also this past year's Boy of the Year! Our 2017 Man of the Year; Ernie Yarborough also joined the group to help deliver the blankets, he spends every Thursday morning at the hospital visiting with the kids. Today was a wonderful day for all! Subaru of Columbia was not able to participate last year and were thrilled to be a part of this event this year! Stopping by all of the kid's rooms and being able to add a smile on their face when sharing the blankets and cards of hope! We are grateful for the partnership with McDaniels Subaru of Columbia and what they are giving back to our community! Thank you for helping to support the patients and bring a ray of sunshine to their day! #somedayistoday #subarulovestocare
---
Subaru and NWF Loves the Earth - Kathy P
The Third Grade Class planted our garden under the direction of their teacher, Mrs. Phillips. The Third Grade was studying Living Things and had a wonderful time planting.
---
McDaniels Subaru Promotes Reading @ Pontiac Elem. - Kristie H
Thanks to McDaniels Subaru, the teachers at Pontiac Elementary School were given a variety of new books to add to their classroom libraries. The students began digging into their new books as soon as they arrived. All students, parents and staff at Pontiac Elementary appreciate McDaniels Subaru's commitment to support literacy.
---
Subaru Brings The Holiday Spirit This Season! - Elizabeth C
McDaniels Subaru helped Pawmetto Lifeline bring joy and cheer to so many people this holiday season! With their support, we were able to organize two adoption events, Santa portraits, and Christmas morning pet deliveries. Their partnership for the Share The Love campaign means we have the extra resources necessary to save more homeless pets during the holidays. It also means that we are able to connect more families with their new companion pets and provide forever homes for these deserving animals. Thank you to Subaru and McDaniels for all you have done for these animals this year! We can't wait for next year!
---
Buy Local, Give Local - Wade S
It is very important buy local. But when you have the chance to buy locally and have that business give back to the community it is an added bonus. McDaniels' overwhelming support of numerous local charities is a great bonus to their incredible service and staff. I was happy to support their recent American Red Cross Blood Drive.
---
Subaru Loves Learning Book Drive - August 1-31 - Molly M
Join us in our Subaru Loves Learning initiative during the month of August! We are partnering with the American Association for the Advancement of Science (AAAS) in donating science books to Pontiac Elementary School. All of the books that will be donated have been recognized by AAAS as some of the best science books in their field. Contact us to learn more information.
---
McDaniels Golf Classic and Auction - Katie M
Unwavering in his commitment to supporting Palmetto Health Cancer Centers, our signature sponsor, Bill McDaniels, has helped raise more than $3.8 million for our Cancer Centers over the last 25 years. These dollars have allowed our Cancer Centers to offer cutting edge diagnostic and treatment options to families facing a cancer diagnosis. The Cancer Centers are able to provide excellent care to patients in the comfort of their own community because of Bill and all those who have supported the McDaniels Golf Classic.
---
A Little Love goes a Long Way-Care-A-Van - Taylor W
We needed a place to set up our mobile vaccine clinic to serve Richland County residents with low cost vaccines for their pets RIGHT in their neighborhood. McDaniels Subaru of Columbia stepped up and provided a space for the van to set up and promoted the event to bring people out. Over 25 pets and their owners received services and more than $900 was made for the homeless pets of the Midlands.
---
Share the Love helped us Share our Mission - Taylor W
Our partnership with McDaniels Subaru of Columbia with the "Share the Love" event was so impactful. Not only did the funds we received go directly into helping us save the lives of homeless pets in the Midlands, but we were able to host events that got the media involved as well as the community, helping to share our message about becoming a no-kill community and saving the lives of the dogs and cats. We were blessed to be the recipients of such generosity and such devotion as shown by the staff at McDaniels in participating in the events as well!
---
Subaru Loves the Earth - E-Waste Event - Danielle S
We would like to thank our customers for participating in our E Waste Recycling event during the month of April. With your help, we were able to prevent 2,090 lbs of carbon emissions from polluting the atmosphere. This is equivalent to saving 81 trees, 356 gallons of gasoline, 3,030 plastic bottles, and 13,936 aluminum cans. Thank you for helping strengthen the Subaru Love Promise!
---
April 1-30, 2015 E-Waste Recycling Event - Molly M
Throughout the month of April, we are hosting an E-Waste Recycling Event in our store to collect unwanted electronics. We've arranged to work with a company who will responsibly collect, re-purpose, and recycle your electronic waste. Help us protect our environment. Just show up with your E-Waste and we'll do the rest! The first 50 customers who contribute will receive a complementary environmental badge of ownership. We will accept: LCD Monitors, Cell Phones, Laptops, Tablets, CRTs up to 40 inches, Video Games/Consoles, Fax Machines, DVD/VCR Players, Printers, Computer Peripherals, Switches/Routers, Cords and Wires.
---